Hezbollah, Syria reject ties to deadly Beirut blast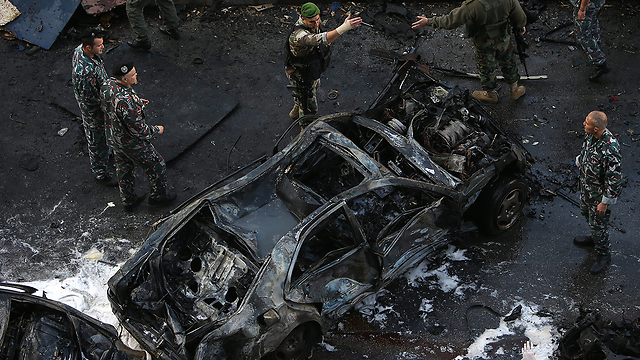 Security personnel on the scene (Photo: AP)
Blast killed six people, including prominent Hezbollah critic; former PM Hariri blames Hezbollah.
Damascus and
Hezbollah
on Friday evening rejected accusations by Lebanese officials that they were behind the Beirut car bomb blast that killed six people earlier in the day, including former minister Mohammad Chatah, a known critic of both Syria and the extremist Islamic group it sponsors.
"These wrong and arbitrary accusations are made in a context of political hatred," said Syria's Information Minister Omran al-Zohbi, in remarks published by state news agency SANA.
Hezbollah said on Friday that the assassination only benefits Lebanon's enemies.
"This ugly crime aims at destroying the country and is a sinful attempt to target stability and national unity which only benefits Lebanon's enemies," Hezbollah said in a statement. It further called on the Lebanese people to be "rational and wise in dealing with dangers facing their country."
The March 14 alliance group – from which Chata and former Lebanese prime minister Saad Hariri stem – vehemently condemned the assassination and implied that the
Syria
regime and Hezbollah were responsible for the ex-minister's death.

Burning vehicle in downtown Beirut (Photo: Reuters)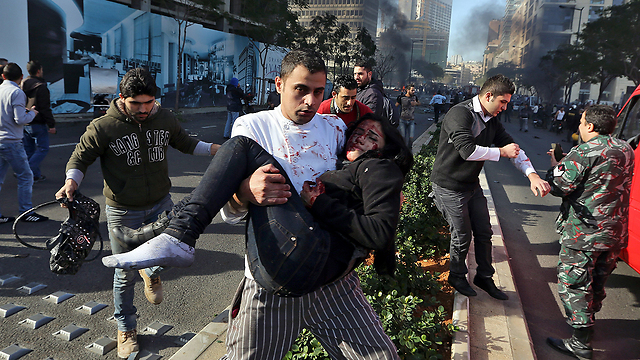 Woman injured by blast (Photo: AP)
Lebanon's former prime minister Saad Hariri accused Hezbollah of killing his adviser.
"As far as we are concerned the suspects... are those who are fleeing international justice and refusing to represent themselves before the international tribunal," Hariri said, referring to five Hezbollah suspects indicted for the 2005 killing of his father.
"The killer, with its Lebanese allies, is the one that is targeting
Lebanon
in Beirut, Tripoli, and Sidon and Syria in Daraa, Aleppo, and Damascus," former Lebanese prime minister Fouad Siniora said, adding that "We demand that this assassination be referred to the Special Tribunal for Lebanon," he added.
Siniora also said, "We received the criminals' bloody message and our reply is that Lebanon will remain free as tyrants will fall. Lebanon will remain a country for all Lebanese in spite of the criminals," he stated.
Chatah was killed Friday as he was heading to a March 14 meeting in Future Movement Saad Hariri's residence in downtown
Beirut
, by a car bomb that left at least 70 people wounded.
The deadly car bomb that ripped through downtown Beirut shook buildings and rattled windows, triggering fear among many people that "nowhere is safe" anymore in Lebanon.
The country, which fought a long civil war between 1975 and 1990, is no stranger to violence and has seen a rise in attacks linked to the fighting in neighboring Syria, but Friday's explosion in the heart of Beirut brought the unrest even closer to home.
Street cleaner Ali Aoun was carrying out his daily chores when the car exploded, killing six people, including prominent anti-Syria politician Mohammad Chatah.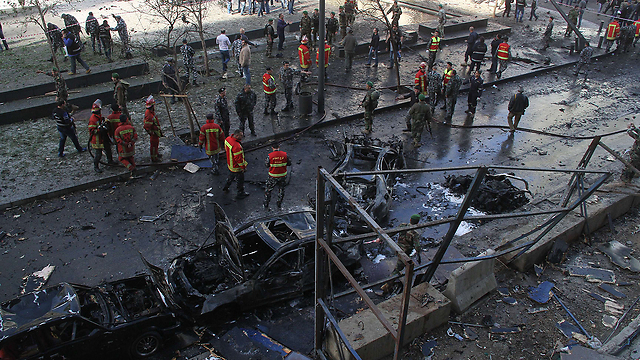 Emergency personnel at the scene (Photo: AFP)
"The pressure of the
blast
was so powerful. All the buildings shook around me," he said as he swept up piles of broken glass outside a badly damaged office building.
"I can't believe I am still alive."
Chatah was an adviser to Hariri, whose late father, the billionaire prime minister Rafik Hariri, led the rebuilding of the city center after it was reduced to rubble in the civil war, which claimed an estimated 150,000 lives.
But the elder Hariri was killed in a massive explosion targeting his convoy in 2005, just blocks away from Friday's blast.
"This area is supposed to be safe, perhaps the safest in all the country," said Ziad, a businessman who gave only his first name. It is clear that nowhere is safe anymore. If I had the chance to take my wife and children somewhere else, I would."
The blast was so powerful that it wrecked the facades of at least 10 office buildings, damaging cars, trendy cafes and designer boutiques across a wide swathe of the city center.
The streets were carpeted with glass and shrapnel and bloodstains could be seen on the pavement in the usually spotless district, home to banks, parliament, and the prime minister's office in the hilltop Ottoman-era Grand Serail compound.
Fresh food was still laid out in a display at a shattered restaurant, just meters from the scene of the attack.
'Anyone can be killed, anytime, anywhere'
Hatem, a security guard standing a few meters away from the destruction, said the attack is a sign of worse things to come for Beirut.
"This attack is a message to everyone in Lebanon that says: everyone can be killed, anytime, anywhere. The country is heading towards destruction," he said. "The worst thing is the feeling of insecurity. A car bomb can hit anyone, anywhere. And you can't predict it or take any precautions."
Joelle, a smartly-dressed, young office worker shuddered with fear.
"I am terrified. I was at work. Many of my colleagues have been injured, and they were inside their offices when the blast hit. What does this mean -- we can't even go to work?" she said. "No one deserves to die this way."
A Kuwaiti businessman who had just arrived to Lebanon said what happened was "tragic" and could harm Lebanon's economy. "You know this means no one is going to come and do business here in Lebanon anymore," he said, declining to be name.
His Lebanese escort Zulfiqar added: "People come and party here (downtown) every night, and they work here every day. It is shocking."
Others paid tribute to Chatah, an economist, former finance minister and Lebanon's ambassador to the United State, who was the ninth high-profile anti-Syria figure killed in Lebanon since Hariri's assassination.